---
About Don Dusick and Cornerstone Financial
After graduating from West Virginia University in 1986, with Finance degree in hand, I moved to Atlanta, Georgia. I knew one thing: I wanted to help people manage their money.
My first job in Atlanta was with a mutual fund company called First Investors. I learned a script and sold one fund, no matter what situation was presented. It didn't take long for me to realize that I was in the wrong place. Disappointed with my first job, I left for an employment opportunity at an insurance company, Fidelity Union (since bought out by Allianz). I gained some great experience working there, but I wasn't sold on their policy that life insurance was the answer to everyone's financial situation. Now thoroughly confused, it was time to step back and reassess what I wanted in a career. So, of course... I waited tables!
In the midst of my six-month adventure at the Crab House on Cobb Parkway, I met a gentleman who was trying to get a financial planning firm off the ground, and I jumped at the opportunity to be a partner in that endeavor. Those of you who have been with me for fifteen or more years surely remember the Eagle Financial System days. For an entire year, I was a sponge. My knowledge of the financial industry and of running a business grew exponentially. I was finally in my element. When my partner and I realized that we had different philosophical approaches on how to develop that business, I took the big step of setting out on my own.
In February of 1990, I joined a group of 6 friends on a skiing trip to Colorado. I wrote a business plan, and we all brainstormed to come up with a name for my new company. We were skiing in Keystone park, and the name Keystone Financial hit the top of the list, followed by Cornerstone Financial. Sure enough, Keystone Financial was taken, and part of my history was written when Cornerstone Financial officially came into being.
I'd like to mention those friends who were part of that skiing trip, each of whom have become clients over the years: Dr. Alex Garcias, Lou Rodriguez, Mike Blackwell, Mike Busboom, Gary Iskol, and Larry Perry. I am truly blessed to have friends as clients and clients as friends.
I carried my clients with me on this new journey, and every single one of them is, in some fashion or another, still with Cornerstone today. I am indebted to those first clients: Dr. Alex Garcias, the David and Janet Gallagher family, and Jim and Marilyn Mikel. I am blessed to have been able to watch and participate in the maturing of the Gallagher children, from grade school through high school, and to see them get married and have children of their own.
Later in 1990, Cornerstone Tax was launched. I took tax classes, with Marilyn Mikel as my instructor. Marilyn and Jim became Cornerstone's first partners. With Rudi Rudisill (whom we dearly miss), Cornerstone Tax took off. Through it all, I became a part of the Mikel family.
In 1991, William Langdon joined me as a partner. Many of you ask of him, and he is doing well. We still, occasionally work together on projects. For personal reasons, he went out on his own, but we are still dear friends.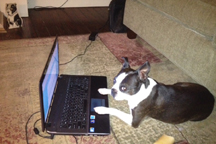 In 1993, another Cornerstone milestone was reached. We hired our first Boston Terrier assistant who infused the company with vitality and fun: Euchre Dusick! Yes, nepotism at its best. Since then, we have added Boston Terrier assistants Lorelei and Rory Dusick, each blessing Cornerstone with their rich personalities. Euchre and Lorelei have passed on, but in our memories, they continue to shine. Rory deems himself my personal bodyguard and keeps vigilant watch on every door and window.
Many changes occurred in the financial industry throughout the 1990s, and Cornerstone met each challenge head on. Our basic philosophies never wavered, no matter what awaited us on the horizon. Over 95% of our clients stayed true to us through the ups and downs. Did every account glide on a wave of continual appreciation? No. But, in the long-term, they all ended up ahead. Throughout those tough times, and still today, we did and do so much more. We help negotiate and buy cars and houses. We make sure you and your families are adequately protected in case of loss. And, cliche or not, we have indeed both laughed and cried with you. Cornerstone is my family.
And the family continues to grow. After Cornerstone Tax moved, I left Ashford-Dunwoody Road for our current offices at 275 14th Street. I was without a partner until Dave Summers came on board in 2002. I will say that in partnering with Dave, Cornerstone Financial gained one of the best Financial Planners in the city. We have also had the pleasure of adding Lee Frush to our partnership, including his unparalleled knowledge of insurance. And, believe me, Dave and Lee have great stories of their own. Just click their links to read about them.
We still, and always will, make it our mission to meet your needs and goals.
Donald carries series 6, 63, 7, and 24 security licenses in the states of GA, AL, FL, and MO. He is insurance licensed in the state of GA.